Can wearables change behaviour as part of workplace wellbeing initiatives? While many employers are exploring how to integrate wearable technology into their corporate wellbeing programs, all too often, the devices end up in a desk drawer after a few weeks.
It doesn't have to be this way. A recent systematic review identifies the essential principles for successfully implementing wearable health technology in the workplace, which can help you to overcome some of the most common mistakes: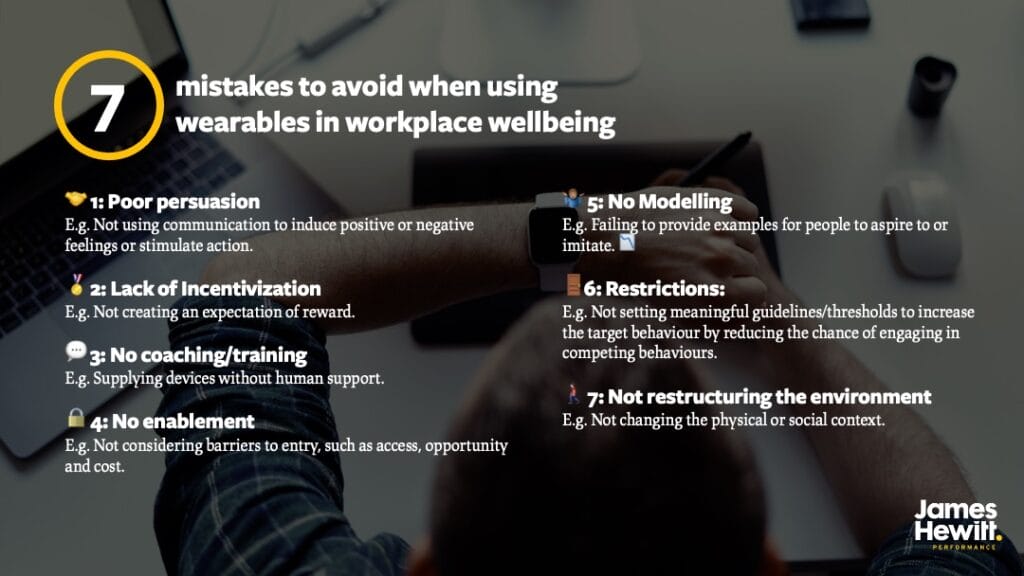 🤝 Mistake 1: Poor persuasion:
E.g. Not using communication to induce positive or negative feelings or stimulate action.
Solution: Share stories from employees in pilot programs or other similar companies with positive experiences and results.
🏅 Mistake 2: Lack of Incentivization:
E.g. Not creating an expectation of reward.
Solution: Offer prizes for hitting targets such as step counts, or, as I've seen in several workplaces, encourage friendly competition. For example, I recently ran a program with a client for whom a week of optimal sleep data became a badge of honour.
💬 Mistake 3: No coaching/training:
E.g. Supplying devices without human support.
Solution: Provide coaching and training assistance to help employees understand and apply their data. Coaching can also provide accountability, encouraging employees to translate new insights into action.
🔒 Mistake 4: No enablement:
E.g. Not considering barriers to entry, such as access, opportunity and cost.
Solution: Employers could subsidise the device cost and ensure that the onboarding process is seamless. It's worth noting that many wearable device manufacturers offer onboarding workshops to help employees set up and begin to use their devices. 
🤷🏽♂️ Mistake 5: No Modelling:
E.g. Failing to provide examples for people to aspire to or imitate. 
Solution: Create an internal 'ambassador' program comprised of enthusiasts and early adopters who have already had good experiences with wearable technology. Encourage these people to share their stories, encourage and support their colleagues.
📉 Mistake 6: Restrictions:
E.g. Not setting meaningful guidelines/thresholds to increase the target behaviour by reducing the chance of engaging in competing behaviours.
Solution: We're very good at deceiving ourselves about how sedentary we are. Wearable data can raise awareness of sedentary behaviour and inactivity. 'Restrictions' could relate to guidelines concerning sitting time, such as a recommendation to keep sitting time below a specific threshold. For example, sitting for 13.5 hours a day (<4,000 steps) is associated with resistance to metabolic improvements from aerobic exercise. 
🚶🏻♂️Mistake 7: Not restructuring the environment:
E.g. Not changing the physical or social context.
Solution: Look for opportunities to shift the physical environment and social context. For example, encourage employees to try to take three walking meetings each week. Also, as people begin to return to the office, use this as an opportunity to set new norms, such as taking the stairs rather than using the lift.
Avoiding these seven mistakes by putting these principles into action will give you the best chance of getting the best out of wearable technology in your workplace.
If you'd like to discuss using wearables in your corporate wellbeing program, feel free to get in touch.
References
The principles and solutions in this post are based on a recent systematic review. The review used the 'Behaviour Change Wheel' to classify the principles. Below, you can find references to both the review and the Behaviour Change Wheel framework.
Chen-Yin Tung, Chia-Chen Chang, Jang-Wei Jian, Yu-Syuan Du & Cai-Ting Wu (2022) Studying wearable health technology in the workplace using the Behavior Change Wheel: a systematic literature review and content analysis, Informatics for Health and Social Care.
Michie, S., van Stralen, M.M. & West, R. (2011) The behaviour change wheel: A new method for characterising and designing behaviour change interventions. Implementation Sci.